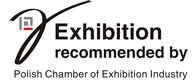 When will be held the Home Decor 2020?
In order to make it easier for buyers and potential exhibitors to plan their business calendar for next year, we are already informing about the new date of the HOME DECOR 2020 fair.
Due to numerous suggestions from visitors, we have decided to postpone the fair from March to February. The next edition of the event will be held on February 25-28, 2020.
Join us!