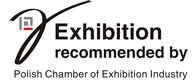 Visitors Guide
Map of exhibition, list of exhibitors, overview of events and much more other useful information about HOME DECOR 2019 you can find in our Visitors Guide.
Visitors Guide will be available free of charge at the entrance to the exhibition area.
Click the rectangle in the lower right corner to read the full-screen version.
To download the electronic version of the Vademecum in pdf for printing, click the link below: