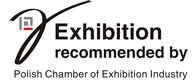 16.04.2019
Nearly 22,000 people from 65 countries took part in the HOME DECOR 2019 Interior Design Fair, the most important business presentation of the latest trends in interior decoration and accessories in Poland, which took place in Poznań from 12 to 15 March 2019. It is a place where you can see the new collections of decorations, lighting, textiles, ceramics, glass, kitchen and bathroom accessories and other decorative elements. The last edition of Home Decor was full of numerous new products, trends presentations or product premieres.
02.04.2019
In order to make it easier for buyers and potential exhibitors to plan their business calendar for next year, we are already informing about the new date of the HOME DECOR 2020 fair.
13.03.2019
Watch the short edit from the HOME DECOR 2019 Interior Design Fair...
12.03.2019
See the pictures gallery from the first day of Home Decor 2019 Interior Design Fair.
07.03.2019
Map of exhibition, list of exhibitors, overview of events and much more other useful information about HOME DECOR 2019 you can find in our Visitors Guide.
06.03.2019
Fenek Studio, Michał Loba and Nikodem Szpunar are the best designers of the year according to ARENA DESIGN 2019. The award was granted for the first time.
21.02.2019
See the winner of the Golden Medal Competition at the HOME DECOR 2019 Fair...
12.02.2019
LOT Polish Airlines is an official carrier of Meble Polska / Arena Design / Home Decor.