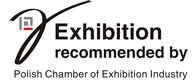 13.02.2019
In the framework of events accompanying MEBLE POLSKA, HOME DECOR and ARENA DESIGN Fairs we organize "Polish-Turkish B2B Workshop and BUSINESS MIXER".
12.02.2019
LOT Polish Airlines is an official carrier of Meble Polska / Arena Design / Home Decor.
08.02.2019
Massproductions – Swedish-British duo, fascinated by the aesthetic dimension of the optimization of the production process. Berlin studio Geckeler Michels, combining innovative, tasteful minimalism with extraordinary attention to detail. Alexander Taylor – an Englishman whose projects bought by Alexander McQueen. ARENA DESIGN 2019 invites to Poland the world's leading design team.
27.06.2018
We present You the latest issue of Poznań Fair Magazine. We invite You to read both its paper and online version. In this issue we present the distinguished guests who visited Poznań International Fair in the recent months, provide reports on the spectacular fair and events, and present Arena Hall, which joined the group of objects managed by the Poznań International Fair. And moreover…
23.04.2018
Premieres of new products and brands, intense colours, glamorous accessories, interesting lectures and panel discussions and a number of interesting exhibitions – that is a brief description of this year's edition of MEBLE POLSKA, HOME DECOR and arena DESIGN Fairs. Between 6 and 9 March 2018, Międzynarodowe Targi Poznańskie was visited by nearly 21 thousand traders from 59 countries.
07.03.2018
See the video report from the first day of the HOME DECOR Fair 2018!
27.02.2018
List of exhibitors, hall plans, overview of events and a lot of other information needed to make the most of your time spent at the HOME DECOR 2018 Fair, you can find in the "Visitors guide".
15.02.2018
See Gold Medal Winners 2018 and vote in Gold Medal - Consumers' Choice Competition