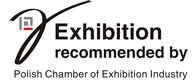 Good to know
Opening hours for visitors
Tuesday (12.03): 10:00 - 18:00
Wednesday (13.03): 10:00 - 18:00
Thursday (14.03): 10:00 - 18:00
Friday (15.03): 10:00 - 17:00
Opening hours of the ticket offices
Tuesday (12.03): 9:30 - 17:30
Wednesday (13.03): 9:30 - 17:30
Thursday (14.03): 9:30 - 17:30
Friday (15.03): 9:30 - 15:30
Ticket prices
Single entry ticket without registration: 150,00 PLN
Multi entry ticket after on-line registration (www.mtp24.pl): 0,00 PLN
Invoices
You can obtain an invoice at invoicing desks in open entrance lobbies in the trade fair opening times upon presenting a purchase receipt.
Location
Open entrances and ticket offices: Eastern Entrance, Northen Entrance, Western Entrance
Available halls: Hall 5
Międzynarodowe Targi Poznańskie sp. z o.o.
ul. Głogowska 14
60-734 Poznań
Car park
The Poznań International Fair, Ltd. offers a supervised car park (with 850 spaces) to its guests. It is located 350 m from the fairgrounds. Open 24 hours a day. Suitable both for cars and coaches. You can enter the car park through two gates: at Matejki Street (main gate - open throughout the year) and at Ułańska Street (additional gate - open only during large trade shows).
Prices of the PIF car park located at Matejki Street:
Single-track vehicle (motorbike, bicycle): 2,00PLN/h
Passenger car: 4,00 PLN/h
Delivery van, truck, bus, car with trailer: 8,00 PLN/h