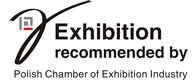 13.02.2019
In the framework of events accompanying MEBLE POLSKA, HOME DECOR and ARENA DESIGN Fairs we organize "Polish-Turkish B2B Workshop and BUSINESS MIXER".
12.02.2019
LOT Polish Airlines is an official carrier of Meble Polska / Arena Design / Home Decor.
08.02.2019
Massproductions – Swedish-British duo, fascinated by the aesthetic dimension of the optimization of the production process. Berlin studio Geckeler Michels, combining innovative, tasteful minimalism with extraordinary attention to detail. Alexander Taylor – an Englishman whose projects bought by Alexander McQueen. ARENA DESIGN 2019 invites to Poland the world's leading design team.
More news
---

Next edition of HOME DECOR: 12-15.03.2019, Poznań / Poland